In recent years, the word poker has become synonymous with a two card game known as Texas Hold'em, but dozens of other poker variants are regularly played. Indeed, the standard 52 card deck of playing cards can be used in innumerable ways, proven by the fact that new poker games are still being invented today.
Two of the most popular additions to the world of poker are known as Three Card Poker and Hi Lo. Formed as fusion between traditional poker and blackjack, these games incorporate the traditional hierarchy of poker hand rankings, while pitting the player against the house rather than several opponents.
Three Card Poker is predicated on the strength of your three card poker hand relative to the dealer's, while Hi Lo is a pure guessing game that rewards players for taking risks. Casinos across the country have been forced to make room for these wildly popular games, as gamblers flock to the nonstop action and potential for big bonus payouts.
This trend holds true within the world of online casino gaming, and today both Three Card Poker and Hi Lo serve to fill the void for many poker fans after government intervention made the legality of online poker questionable in some parts of the world.

Top Casinos
Rank
Casino
Payment Grade
Bonus
Play Now
But for games of chance like Three Card Poker and Hi Lo, the impersonal graphics and video game feel of traditional online gaming can leave players feeling like something essential is missing from their casino experience.
Table games are a communal experience for the most part, with much of the entertainment value derived from friendly banter with the dealer and camaraderie with your table mates. For many players who can't easily visit a brick and mortar casino, the unique dynamic that exists while playing a table game for real money simply couldn't be replaced.
Live dealer casino games have changed everything though, finally devising a convenient way to connect players to an actual dealer during online sessions of Three Card Poker and Hi Lo. The live dealer concept has revolutionized the world of online casino gaming, by bringing the sights and sounds of your favorite game straight to the screen of your laptop, personal computer, or tablet.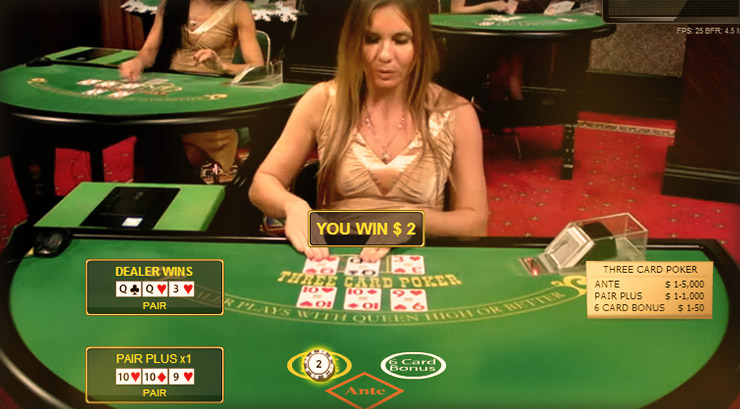 How It Works
By taking advantage of the latest in live streaming technology, the live dealer platform records a professional table games dealer working in a licensed casino or gaming establishment. You're connected to the dealer much like a Skype or FaceTime conversation, seeing them from the same perspective as you would during a session at a brick and mortar casino.
The dealer works from behind an official Three Card Poker or Hi Lo table, complete with the correct betting areas clearly marked on fresh new felt. She'll also be handling a real deck or shoe, so you can savor the sweat of an actual deal without worrying about the integrity of a random number generator.
To complete your living room's transformation into a genuine casino atmosphere, the live dealer table games software allows you to carry on a conversation with the dealer running your game. A chat box in the corner lets you converse on your end and the dealer will talk back in real time. So if you need to know whether the ace is high or low in Hi Lo (they're high), or what the 6 Card Bonus bet is all about in Three Card Poker, you can just look up and ask the dealer for advice.
An intuitive interface provides the in game control, giving you the ability to place wagers and size your bets with a simple click of the mouse or touch of the screen. Once you've completed your bets, along with the other players joining you at the virtual table, the dealer takes over and distributes the cards.
Rather than the impersonal flash of pixels transforming on your screen, you'll see the dealer slowly peel the next card off the deck, giving these action packed table games the same sense of anticipation that you'd find in an actual casino.
How to Play
Finding a certified live dealer platform provider doesn't take much time at all, as live dealer poker leads the way when it comes to this growing industry. Respected online gaming firms like William Hill and Unibet have added Three Card Poker and Hi Lo to their live casino menu, and both sites rely on state of the art live dealer software to power their games.
After signing up for an account and funding your bankroll with an initial deposit, you'll simply navigate the online casino's lobby to find the live dealer version of your favorite game. Once you select a table and take your virtual seat, simply buy in and place a wager to join the fun. The dealer will be there to greet you with a smile, and should you have any questions while you get started, she'll be ready and waiting with the answers to guide you along the way.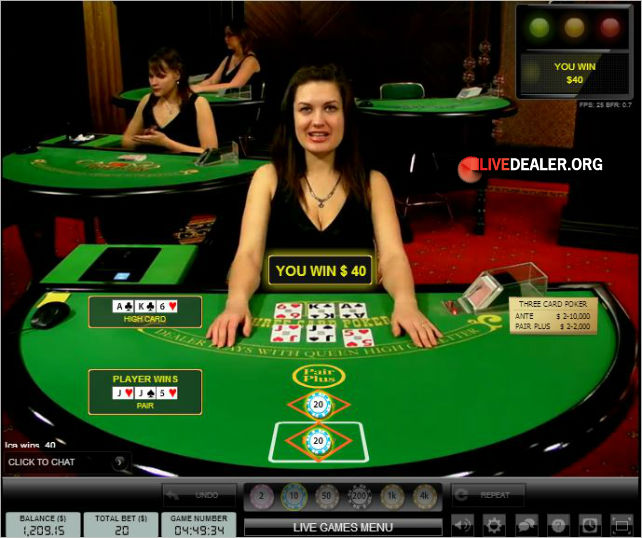 Rules
Playing a game of Three Card Poker is actually more similar to blackjack than anything else. Begin by placing an ante bet of your choosing (so long as it meets or exceeds the table minimum), before taking a look at the three card hand tossed to you by the dealer.
Based on the relative strength of your hand (ace high is considered to be quite strong in this game, while single pairs are usually good for a win), you then decide to match your ante bet with an identical play bet. Should you elect to place this play bet, the dealer will turn their own three card hand over for comparison.
If the dealer produces a qualifying hand of queen high or better, the highest hand wins (three card straights and flushes can be made, and the standard poker hand rankings are in effect), while winning bets are paid out at a 1 to 1 ratio. If the dealer's hand doesn't qualify, your ante and play bets are paid out at 1 to 1 like normal.
What makes Three Card Poker a special game isn't the primary ante / play bet, but the bonus bets players can make on the side. The Pair Plus bonus bet can turn a small wager into a generous payout when you happen to make huge hands. For example, if your three cards are 6 7 8 all in hearts, this straight flush wins you an additional 40 to 1 payout. Finally, the elusive Six Card bonus bet rewards you with massive payouts in the unlikely occurrence that your hand combines with the dealers to form qualifying six card poker hands.
Whereas a bit of skill is involved in Three Card Poker, as players can elect to fold away their ante when their three card hand isn't up to snuff, Hi Lo is a pure gambler's game based solely on guessing.
The dealer will draw one card from the deck, and this sets the base number. After that, all you have to do is guess whether the next card dealt will be higher or lower than the base card. Obviously, when the base card is high, betting on low is the best play (and vice versa), so payouts are adjusted based on the exact value of the base card during each hand. Players can also bet that the next card dealt will match the base card, and this snap is worth a 12 to 1 payout.