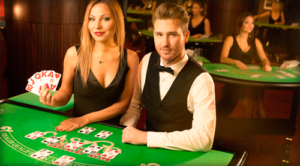 Live dealer casino holdem poker is exactly what it sounds like: you play a game of Texas Hold'em alongside a real live dealer who runs the game. This means every flop, turn, and river is dealt from a genuine deck of cards, one that is shuffled and cut right before your eyes.
For players accustomed to the often suspicious frequency of coolers and bad beats associated with regular online poker rooms, the live dealer poker software is surely a sight for sore eyes. Of course, you'll still see brutal suck outs and aces cracked, but knowing that the cards came from an actual deck provides players with invaluable peace of mind.
Top Casinos
Rank
Casino
Payment Grade
Bonus
Play Now
Live Casino Poker History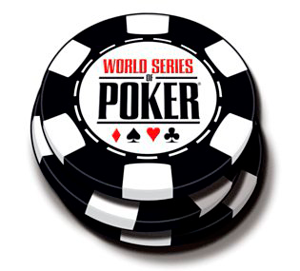 Over a decade ago the so-called poker boom brought the game of No Limit Texas Hold'em into the worldwide consciousness. Poker pros became TV stars and celebrity sensations, while amateur players lived the dream by turning small buy-ins into big-time bucks.
When the final card fell to complete Chris Moneymaker's miraculous win at the 2003 World Series of Poker Main Event, an entire generation of American gamers instantly adopted poker as the new national pastime.
While the heady days of the poker boom may have cooled off just a bit in recent years, largely due to governmental intrusion on the once thriving online poker industry, today there's a new and exciting way to get in the game without ever leaving home.
Designed to stand apart from traditional online poker, which integrates simple chip and card graphics to replicate the in-game experience, live dealer poker is the latest innovation poised to revolutionize the industry.
How Live Holdem Poker Works
A game of poker on the live dealer platform plays out in a similar fashion to a normal hand of Texas Hold'em – but with one major difference. Unlike a typical ring game, or poker game involving players competing against one another, live dealer poker games pit players against the house.
Think of it as a hybrid of blackjack and poker, with you taking two hole cards and a three card flop, before calling or folding according to the five card hand's relative strength.
Initial Betting
If you like what you see after making your ante bet and forming a hand with your hole cards and the flop, you can place an additional bet to call and see the turn, the river, and the dealer's hole cards.
In live Holdem poker, just like a traditional game of Texas Hold'em, the highest ranked five-card poker hand wins the pot.
Live Dealer Casino Holdem Poker
What separates live dealer casino Holdem poker from the online poker rooms of old is the inclusion of a real dealer and a genuine deck of cards. By incorporating cutting-edge live streaming technology, the dealer's actions are recorded and broadcast directly to your computer or laptop screen.
You can see the deck being shuffled and cut before each hand, ensuring the game's integrity at all times. This increased sense of security is a crucial improvement on the virtual online poker industry, where a series of insider scandals and cheating allegations have left players all across the planet suspicious.
A Fast-Paced Game
Because a game of live dealer casino Holdem poker is played one on one against the dealer, rather than among several different opponents, the game moves at a much faster pace.
Unlike live holdem poker in a brick and mortar casino, you'll never find yourself waiting as the table slowpoke stalls the action. And while you can't build the massive pots that give No Limit Texas Hold'em its reputation, playing against a single hand on each deal means you'll take down the pot much more often.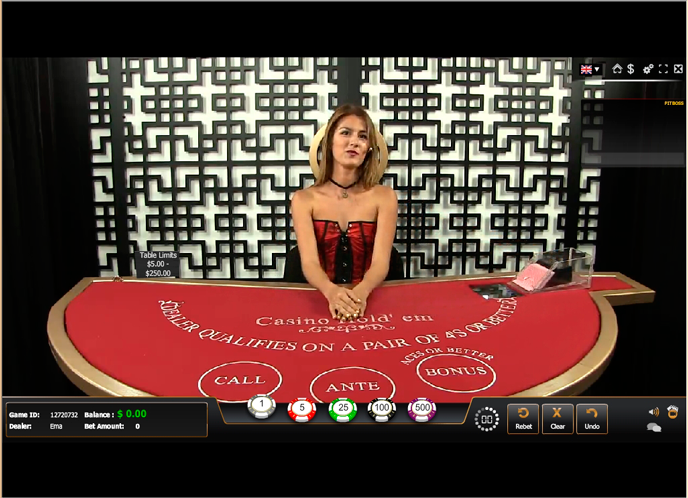 How to Play Live Dealer Casino Holdem Poker
Live Casino Holdem poker is a hybrid table game, one that plays similarly to Three Card Poker and Pai Gow Poker and is just as interesting for betting and gaming, and you can see how to play it in three simple steps:
Step One: Dealing
After committing an ante bet, the dealer will distribute two hole cards to you, and two for herself. These hole cards remain face down until the hand is completed.
After the hole cards are handed out the dealer will then burn one card from the top of the deck by placing it face down, before turning three community cards face up on the felt. These three cards are known as the flop, and you'll combine your hole cards with the flop to form the highest possible five card poker hand.
Step Two: Bet or Fold
Depending on the relative strength of your hand after the flop, you'll then decide if you want to commit an additional wager to call or to simply fold and surrender your ante.
For example, if your hand contains a pair or better, or a draw to either a straight or a flush, you'd likely elect to call the additional bet. However, when you make no pairs or draws on the flop, folding is usually the correct play.
Step Three: Making An Additional Bet
By calling the additional bet you bring two more community cards to the table. The turn and the river complete the hand, and you can use either one or both of your hole cards, along with any three of the community cards on board, to form the highest ranking five card poker hand possible.
The dealer will then expose their hole cards and do the same, with the best hand taking down the pot.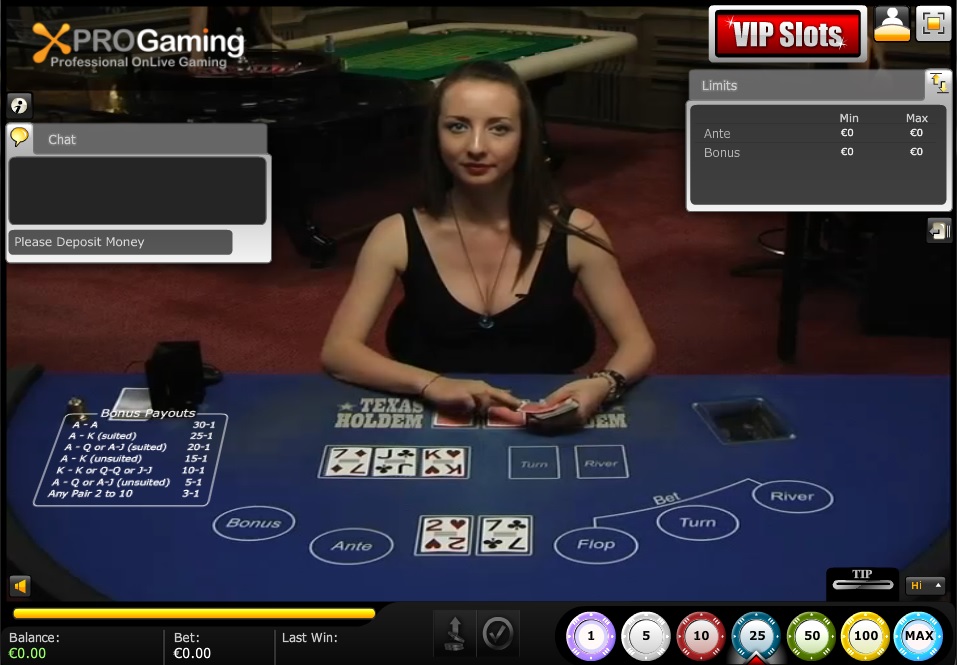 Live Casino Holdem Rules
Because the game mechanics of live dealer casino poker play more similarly to a table game, there are minimum hand requirements to keep in mind.
These vary slightly across each of the live dealer platform providers, but for the most part, a standard series of hand rankings is in effect, with high card winning when no pairs are present, followed by the highest pair, two pairs, three of a kind, and so on.
Betting Exceptions
When making a call bet to see the turn and river, some platform providers require you to double the original ante bet, while others simply require that you match the ante.
Be sure to read the house rules for each platform closely before sitting down for a session of live dealer casino Holdem poker.
Payouts
Winning wagers are paid out at a 1 to 1 ratio, while various bonus bets available on different platforms offer their own payout structure.
Take care to read up on each site's rules and regulations before making these bonus bets, because certain payout scales make the wager more worthwhile than others.
Strategy & Tips
As a casino version of Texas Hold'em, online casino hold'em poker is a top choice among online players. The live dealer casino hold'em game is one that is easy to play and can produce a nice return. By learning a quality strategy for gameplay and using the best tips, players can have fun enjoying the game and hopefully earn a payday in the process.
House Edge
When using an optimal playing strategy for casino hold'em live, the house edge is 0.82%. The strategy to this game will be dependent on the five cards in play, the two cards of the player and three community cards. Players can use any casino hold'em strategy calculator found online to check the right strategy to be used when holding a particular hand. As players become familiar with the different hands and which strategy to use, the calculator will no longer be needed.
Making Smart Decisions
In general, players should never fold a hand with a pair, an A high or K high hand or a flush draw or open-ended straight draw. Players should almost never fold a Q high hand or a gutshot straight draw. A J high hand should also almost never be folded. A hand should be folded when a player has very low cards that don't connect with the board.
Sidebets
When it comes to sidebets on live casino hold'em, the options are few and far between. One that can be available is the AA+. This side bet will pay based on the value of the player's hand after the flop has been revealed. Players will earn a higher payout based on the hand value with the flop such as with a Royal Flush or a Straight Flush. Side bet options will vary based on the online casino where you are playing the game.
Keep an Eye Out for Bonuses
When an online casino offers a bonus and live casino hold'em applies, players can certainly benefit. An online casino bonus is extra cash provided by the casino based on certain requirements. For the most part, a deposit will equal a cash bonus. For example, players may find a 100% bonus with a match of up to $200. Basically, players would make a deposit up to $200 and receive the same amount in bonus cash. If casino hold'em live applies to the bonus, players can enjoy the game and work towards clearing the bonus. Once requirements are met, players can then move forward with cashing out any winnings.
Best Live Dealer Holdem Casinos
When it comes to online casinos with hold'em poker it is important for players to find the best live dealer casino for some real-time gameplay. The online casino needs to have a good rating as an online gaming provider as well as be available in your region, offer quality banking methods, easy to use software and the best customer service. We have listed the best options below for US and Non-US players.
888Casino
At 888Casino, you will find that live dealer casino hold'em offers quality gameplay and solid payouts. Players can wager from 0.1 to 1000 with traffic lights used during gameplay so players know that if the light is green, bets can be placed, a yellow light means betting is almost over and a red light means no more betting.
Sidebets
At 888, players have the option to place a side bet when enjoying live poker online with casino hold'em. The side bet here is known as a bonus bet. With the bonus bet, players will need to place their Ante bet and then place the bonus bet in the same way. Players will be paid based on Ante bets as well as any Bonus bets placed if they hold a winning hand.
Bonuses
When it comes to bonus options, players can clear bonus cash with live casino games like casino hold'em. Currently, 888Casino is offering a FreePlay bonus for new users. New players will sign up and spin to earn their FreePlay bonus cash. The bonus will expire after 14 days and must be claimed within a 48-hour time frame of receiving the email with the bonus. Players must wager 30x the bonus amount to withdraw bonus and related wins. This will take a little more time with live casino games as they count only 10% towards the bonus amount.
Banking Methods
888Casino is a top operator, having been in the online gambling industry for many years. Their experience has led them to choose only the best deposit and withdrawal methods for their members. Players will find that options for deposit can be used for withdrawal, making it easy to add and remove funds when needed. Examples of banking methods offered at 888Casino include:
Visa Credit and Debit Cards
MasterCard Credit and Debit Cards
ApplePay (UK only)
EntroPay Virtual Visa Card
iDebit
NETELLER
PayPal
WebMoney
And many more
Betway Casino
Another online casino great for live dealer hold'em poker is Betway Casino. The game is easily accessed and provides a live gaming experience. At Betway, players will have access to a quality welcome bonus for opening a new player account. This bonus applies to the live casino games, so players can play live dealer hold'em and work towards clearing the bonus cash via the casino's requirements.
Bonuses
Betway provides a £/$/€1000 Welcome Bonus. This bonus is broken into three deposit match offers. Players will be depositing £/$/€20 or more and will be provided a 100% match worth up to £/$/€250. The second deposit requires a minimum of £/$/€20 with 25% cash back provided up to £/$/€250. The third deposit has the same minimum requirement and will provide a 50% match worth up to £/$/€500.
Betting
When it comes to actual gameplay, the Live Casino Hold'em games at Betway offer a nice range of betting limits. Low rollers will find the games start at just 0.05 while high rollers can wager up to 1000 per hand.
Banking Methods
To be able to play for real money, players will have to make a deposit into their Betway Casino account. Once a deposit has been made, players can begin wagering. After a big win, players can use withdrawal methods on offer to cash out. Examples of banking methods on offer include:
Visa
MasterCard
PayPal
NETELLER
Paysafecard
Visa Electron